PLAQUES
Animals
Birds
Military
Other
Portraits
Wedding
PORTRAITS
Ben-Angie
Josh-Rachel
Leslie
Mike
Doris-Roy
PUZZLES
Noah's Ark
Animals
Dino-Mites
Other
MISC.
DeskNames
JewelryBox
Ornaments
Statues
ABOUT US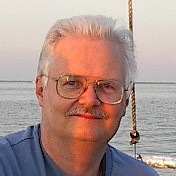 This site contains a gallery of some of the work of
scrollsaw artist, Robert D. (Bob) Wilson.
Bob and his wife, Joyce, live in NE Florida.
Their four children are grown and have
"flown the nest".
Bob telecommutes fulltime from his home as an I.T.
developer for a transportation company located in central
California. Bob is also a published fantasy + Sci-Fi novelist.
Because of this demanding job, he usually only pursues his
woodworking on weekends (when not following his other
hobbies of fiction writing, web creation, Bible study, and
scientific research). Bob has been using the scrollsaw
since the early 90's and enjoys the challenge of creating
new life-like, three-dimensional images from "ordinary"
boards.
Most of the samples displayed on these pages are copies
of custom pieces originally created at someone's specific
request. Once a pattern has been created it may be used
again to produce duplicate works. For all of his work,
Bob only uses hard-woods and for coloring and preserving
will only employ woodburning, nontoxic stains, or
nontoxic oils. Though works may be duplicated, they are
never exactly the same as each piece of wood has its own
"character" and beauty.
To see samples of some of Bob's other hobbies, please visit the link below.